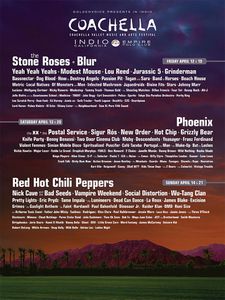 Indio. California. Estados Unidos (12-14 y 19-21 Abril 2013)
El Festival de Coachella 2013 se llevará a cabo del 12 al 14 de Abril y del 19 al 21 de Abril en el Polo Field de Indio (California. Estados Unidos). Los amantes del rock alternativo podrán disfrutar de un cartel espectacular encabezando el festival las bandas británicas Stone Roses, Blur, la francesa Phoenix y la estadounidense Red Hot Chilli Peppers.
Entre las bandas que participarán están además Yeah Yeah Yeahs, Modest Mouse, Lou Reed (viernes 12 y 19 de abril); The XX, The Postal Service, Sigur Rós, New Order, Hot Chip y Grizzly Bear (sábados 13 y 20), así como Nick Cave and the Bad Seeds, Vampire Weekend, Social Distortion y Wu-Tang Clan para clausurar ambos fines de semana (domingos 14 y 21 de abril).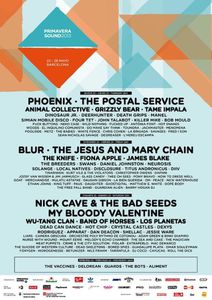 Barcelona. España (22-26 Mayo 2013)
Primavera Sound tendrá lugar del 22 al 26 de Mayo en el Parc del Fòrum de Barcelona. A la banda británica Blur, se unen el dúo The Postal Service con su sorprendente retorno a los escenarios, The Jesus And Mary Chain, Nick Cave and The Bad Seeds, los franceses Phoenix, que presentarán su esperado nuevo disco, y la vuelta al festival de My Bloody Valentine, el grupo liderado por Kevin Shields. Además el Primavera Sound contará en su cartel con nombres tan importantes como Tame Impala, Deerhunter, Band of Horses, Matthew E. White, Dead Can Dance, Animal Collective, Grizzly Bear, etc ... En el apartado nacional destacan los nombres de Los Planetas, Delorean, Hidrogenesse, The Suicide of Western Culture, Extraperlo, entre otros.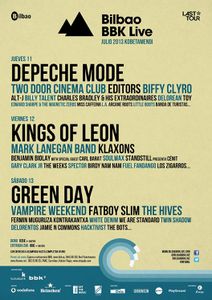 Bilbao. España (11-13 Julio 2013)
Vuelve un año más el festival de Bilbao con un cartel de lujo que tendrá lugar en el recinto de conciertos Kobetamendi de Bilbao. Destacan los tres cabezas de cartel (Green Day, Depeche Mode y Kings Of Leon).
Además de artistas internacionales sobradamente consolidados como Fatboy Slim, Editors, The Hives, Biffy Clyro o Delorentos; se añaden descubrimientos recientes como Two Door Cinema Club, alt-J o Toy; artistas consolidados dentro de la escena estatal como Standstill, Miss Caffeina, L.A, Fuel Fandango y los vascos Delorean y We Are Standard, además de los argentinos Banda de turistas.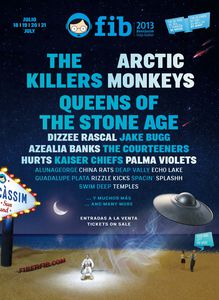 Benicàssim. Castellón. España (18-21 Julio 2013)
El Festival Internacional de Benicàssim se llevará a término del 18 al 21 de Julio. El festival estará encabezado por las bandas estadounidenses The Killers y Queens of the Stone Age, y la británica Arctic Monkeys.
Los que se desplacen a tierras valencianas disfrutarán de la electrizante La Roux, del neoclasicismo pop de Miles Kane, los ritmos catatónicos de Everything Everything y las mil caras de Woodkid. Además sonarán Le Carousel, Childhood, Christian Smith, Chvrches, The Coronas from Ireland, El Gran Manel, Hanni El Khatib, Hyetal, J Roddy Walston & The Business, Jacco Gardner, Pegasvs, Ratolines, The Riptide Movement, Terrence Dixon, Toddla T y Toundra.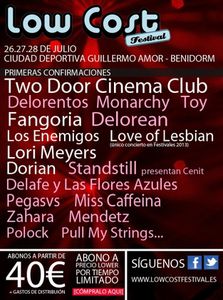 Benidorm. Alicante. España (26-28 Julio 2013)
Belle and Sebastian, Two Door Cinema Club, Crystal Castles o Love of Lesbian son sólo algunos de los confirmados para Low Cost Festival 2013. Cabezas de cartel de lujo para el quinto aniversario de este festival que se celebrará del 26 al 28 de julio en Benidorm.
Un line up excepcional con bandas como Two Door Cinema Club, Delorentos, Monarchy, Toy, Fangoria, Los Enemigos, Dorian, Delorean. Standstill, Love of Lesbian, Lori Meyers, Pegasvs, Delafé y las flores azules, Zahara, Mendetz, Miss Caffeina, Polock y Pull my strings, que no han querido dejar pasar celebrar con nosotros esta edición tan especial.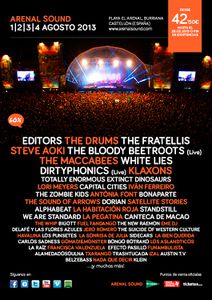 Burriana. Castellón. España (1-4 Agosto 2013)
La nueva edición del festival Arenal Sound tendrá lugar los días 1,2,3 y 4 de agosto en la Playa El Arenal de Burriana (Castellón). Editors, White Lies, The Sound Of Arrows, Austin TV, The Whip, Satellite Stories, Antònia Font, Iván Ferreiro, Dorian, Fuel Fandango, Delafé y las Flores Azules, Bigott, Jero Romero, La Bien Querida e Izal fueron los primeros confirmados.
Posteriormente se sumaron Belzebass y Klei, Bonaparte, Capital Cities, Carlos Sadness, Dirtyphonics, Eme DJ, Go Mad! & Monster, Havalina, La Habitación Roja, Lori Meyers, Standstill, The Suicide Of Western Culture, The Zombie Kids, Totally Enormous Extinct Dinosaurs, We Are Standard.
Meko
ENERO

Actual Impar 2013 – del 2 al 6 de enero.
Festival El Subterraneo 2013 – del 10 de enero al 23 de febrero
Donostikluba 2013 – del 17 de enero hasta febrero
Winter Indie City 2013 - de octubre del 2012 a febrero del 2013

FEBRERO

Microsonidos 2013 – 1 de febrero al 30 de marzo
Lurrazpiko Festa 2013 – 2 de febrero
MicroMUTEK 2013 – del 6 al 9 de febrero
Tanned Tin 2013 – 7 al 10 de febrero
Aloud Music Festival 2013 - 7, 8 y 9 de febrero
Emergència Festival 2013 – 16 de febrero
In-Somni Barcelona 2013 – 15 y 16 de febrero
BizBAK 2013 – 22 de febrero, 1 de marzo y 8 de marzo

MARZO

Electromar Day 2013 – 18 de marzo
Let's Festival 2013 - del 1 al 23 de marzo
TwinPalm 2013 – 15 y 16 de marzo
South Pop Sevilla 2013 – 22 y 23 de marzo
Spring Festival 2013 – 23 de marzo
FIV 2013 – 22 y 23 de marzo

ABRIL

Ecolunar 2013 – 20 de abril

MAYO

MAZ Basauri 2013 – del 3 al 24 de mayo
Viña Rock 2013 – 2, 3 y 4 de mayo
SOS 4.8 2013 – 3 y 4 de mayo
Territorios Sevilla 2013 – 17 y 18 de mayo
Polifonik Sound 2013 – 17 y 18 de mayo
Primavera Sound 2013 – 22 al 26 de mayo
Optimus Primavera Sound 2013 – del 30 de mayo al 2 de junio
Sonisphere 2013 Madrid – 31 de mayo

JUNIO

Sonisphere 2013 Barcelona – 1 de junio
Festival de los Sentidos 2013 – 14, 15 y 16 de junio
popArb 2013 – 28 y 29 de junio
Azkena Rock Festival 2013 – 28 y 29 de junio

JULIO

Ojeando Festival 2013 – 5 y 6 de julio
PalmFest 2013 – del 11 al 13 de julio
FIB 2013 – 18, 19, 20 y 21 de julio
Optimus Alive 2013 – 12, 13 y 14 de julio (Lisboa)
Bilbao BBK Live 2013 – 11, 12 y 13 de julio
Jazzaldia 2013 – del 24 al 28 de julio
Low Cost 2013 – 26, 27 y 28 de julio

JUNIO

GranaPop Live 2013 – Granada y Madrid – 1 de junio
Sónar 2013 – 13, 14 y 15 de junio
Festival de los Sentidos 2013 – 14, 15 y 16 de junio
Contempopránea 2013 – 19 al 20 de julio

AGOSTO

Resurrection Fest 2013 – 1, 2 y 3 de agosto
Santander Music 2013 – 1, 2 y 3 de agosto
Arenal Sound 2013 – del 1 al 4 de agosto
DreamBeach Villaricos 2013 - 9 y 10 de agosto
Ecopop 2013 – 9 y 10 de agosto
Creamfields Andalucia 2013 – 9 y 10 de agosto
Paredes de Coura 2013 – del 13 al 1 7 de agosto
Sonorama 2013 – del 15 al 17 de agosto
Festival V de Valarés 2013 – 17 de agosto

SEPTIEMBRE

Festival Kutxa Kultur 2013 – 6 y 7 de septiembre

OCTUBRE

Granapop 2013 – 4 y 5 de octubre

Meko